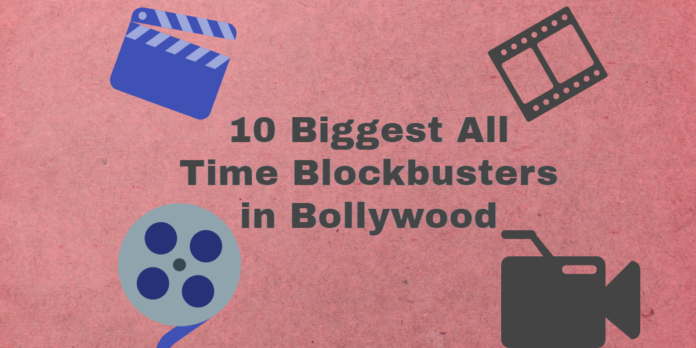 We know you are a big fan of Bollywood movie and here we have gathered the best 10 movies of all time which has left a remarkable mark on everyone. Here are those best 10 Bollywood movies.
Kismet (1943)
Portraying some bold themes for the first time in Bollywood in the 40s – an anti-hero and a single pregnant girl, for instance – this movie ran for 3 years. One of the earliest superhits of Bollywood, this Bollywood movie also introduced double-role acting for the first time through its first superstar, Ashok Kumar. Its total collection was Rs. 1 crore, which today estimates to approximately Rs. 63.2 crores.
2. Mother India (1957)
'Mother India' was a 1950s epic melodrama surrounding the deprivations of womanhood on one hand and its ethics and ideals on the other. The movie went on to be appreciated beyond the borders and across the globe, its total collection would be approximately Rs 117 crores.
3. Mughal E Azam (1960)
The tickets to this movie were the most expensive of that time. A 16th-century prince falls for a court dancer and battles with his father to accept her. It gathered a nett profit of Rs 5.5 crores, its revenue would be equivalent to approx. Rs 132.7 crores.
4. Sholay (1975)
Sholay is a 70s film based on a Police Officer, whose family is killed by a dacoit named Gabbar Singh, decides to recruit two convicts, Jai and Veeru. He approaches them in jail, puts the proposal in front of them, and they agree to bring in Gabbar Singh alive – for a heavy price. This Bollywood movie was a blockbuster hit and contributed millions to the Box office collection.
5. Kranti (1981)
The movie was written, produced, directed and edited by Manoj Kumar, who was a part of the huge cast as well – this film managed to be the biggest success of the 80s. It was also the costliest Bollywood movie of that era, its net collection was around Rs 10 crores – which at present would estimate around Rs 84 crores. Besides, the great star cast which included big names of that era, including Shashi Kapoor, Hema Malini and Shatrughan Sinha, this movie also marked the re-entry of Dilip Kumar after a five-year-long break.
6. Hum Aapke Hai Koun (1994)
Hum Aapke Hain Koun was one of the most romantic family drama of the 90s which was appreciated by a large number of audience. The onscreen love chemistry between Salman and Madhuri was one the best love chemistries at that time. At that time, the total collection was Rs 69.7 crores, which would today amount to around Rs. 310 crores. It was the first Bollywood film to cross the Rs 100-crore mark.
7. Dilwale Dulhania Le Jayenge (1995)
The 'SRK-Kajol' magic has never failed at the box office, and this rom-com was one of their greatest hits together. With a net profit of around Rs 61 crores, it was perhaps the second biggest hit to Bollywood in the 90s after Hum Aapke Hain Koun. Besides 'Mother India', Steven Jay Schneider's book '1001 Movies You Must See Before You Die' includes Dilwale Dulhaniya Le Jayenge at the second place of the two films.
8. Gadar – Ek Prem Katha (2001)
Made at the backdrop of the Partition of India and Pakistan, the movie portrayed the hardship of a Sikh Indian who falls in love with a Muslim girl who was left behind while her family was migrating to Pakistan. The fourth movie to gross over Rs 100 crores was 'Gadar – Ek Prem Katha'. This Sunny Deol and Amisha Patel starrer were seen selling the most tickets in the box office after 'Sholay'. Its accumulated gross is more than Rs 286 crores.
9. 3 Idiots (2009)
Based on Chetan Bhagat's bestseller, '3 Idiots' is one of the biggest blockbusters of recent times as far as box office performance is concerned. Its worldwide collections stand at Rs 385 crores – the biggest ever when it opened in theatres. On movie websites like Rotten Tomatoes and IMDB, it has the highest ratings ever for a Bollywood film. The popularity of this movie led to a Tamil remake released in 2010 and a Chinese one is in the making!
10. Dabangg (2010)
To conclude this list, we have Salman Khan and Sonakshi Sinha debut 'Dabangg' as the final all-time big blockbuster – earned Rs 187 crores. It surpassed the initial day collection record of the Bollywood movie '3 Idiots', it also became the highest opener of all time in Bollywood. Undoubtedly Dabangg was appreciated a lot among the audiences which led to a sequel named Dabangg 2.